Start your summer beating the marathon or a shorter distance in undiscovered Lithuanian city – Kaunas.
Marathon course starts in the city hall, filled with 16th century vibes and continues with the old town view of historical,14th century castle remains, surrounded by two biggest Lithuanian rivers. Course will surprise you with large variety of architecture styles like: Medieval, Gothic, Renaissance, Baroque, Modernist, Soviet era and modern times.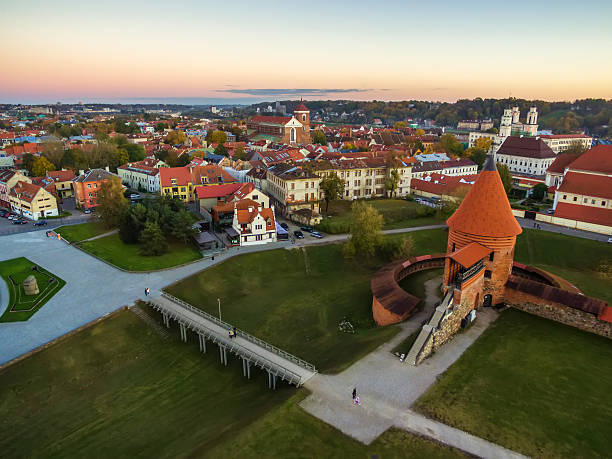 inviting all active people from all over the world, not only to participate in the race but also to discover an amazing, historical city of Kaunas.
You may choose the prestige marathon distance, half marathon, 10 km, 5 km and 1.5 km – fun family run.
Cheer on friends and family members as they take on the challenge. Enjoy the day with various events, concerts, fairs makeing this running event a big city fest!
The event organizers are trying to increase the number of professional athletes competing in annual Kaunas Marathon. Therefore additional 600 euro money prize is dedicated for the new marathon course record and 400 euro for half-marathon course record. Participate in the event and be the one to beat it!
[fusion_button link="https://worldsmarathons.com/marathon/kaunas-marathon" text_transform="" title="" target="_blank" link_attributes="" alignment="center" modal="" hide_on_mobile="small-visibility,medium-visibility,large-visibility" class="" id="" s2id_autogen16="" s2id_autogen16_search="" color="default" button_gradient_top_color="" button_gradient_bottom_color="" button_gradient_top_color_hover="" button_gradient_bottom_color_hover="" accent_color="" accent_hover_color="" type="" bevel_color="" border_width="" border_radius="" border_color="" border_hover_color="" size="" stretch="default" icon="" icon_position="left" icon_divider="no" s2id_autogen17="" s2id_autogen17_search="" animation_type="" animation_direction="left" animation_speed="0.3″ s2id_autogen18="" s2id_autogen18_search="" animation_offset=""]Register Here[/fusion_button]